Professional Car Ceramic Coatings
The ultimate protection for your car or truck
Discover the ultimate solution for maintaining your vehicle's pristine appearance over the years—a professional ceramic coating. This cutting-edge treatment creates an exceptionally durable and smooth layer that safeguards your paint, preventing any harm to the clear coat while ensuring a spotless car for weeks at a time!
What Does a Car Ceramic Coating Do?
Protects The exterior
A ceramic coating is a protective shield that sits atop the paint on your vehicle. The ceramic will protect your paint from harmful chemical damage, minor scratches, oxidation, sun fading and more!
Makes maintenance easier
A ceramic coating will make your car silky smooth and slick. This causes dirt and other particles to resist sticking to your paint, thus making your car stay clean longer!
Increases gloss and shine
With a ceramic coat, you'll have the shiniest car in Mansfield! Our coatings are not just for protection – they also provide a deep glossy look to your paint.
Hydrophobic
Water will bead up and run off of your car. This is helpful in that it makes driving in the rain much safer and it contributes to keeping the vehicle clean.
Keep your car or truck looking good for years
At Nitro Mobile Detailing, we understand that your car is more than just a means of transportation, it's an investment. That's why we offer pro-grade ceramic coating services to help protect and maintain the exterior of your vehicle for years to come. Our ceramic coating is specially formulated to create a strong barrier against harsh elements such as UV rays, acid rain, and bird droppings, preventing them from damaging the paintwork. With our ceramic coating, you can keep your car looking shiny and new for over 3 years.
Long-lasting Shine: The Durability of Ceramic Coatings
Ceramic coatings are known for their exceptional durability and longevity. When properly applied, ceramic coatings can last for years, providing your vehicle with long-lasting protection against light scratches, UV rays, and other environmental factors. Unlike wax or sealant, which typically only last a few months, ceramic coatings are formulated to provide long-term protection for your vehicle's paint.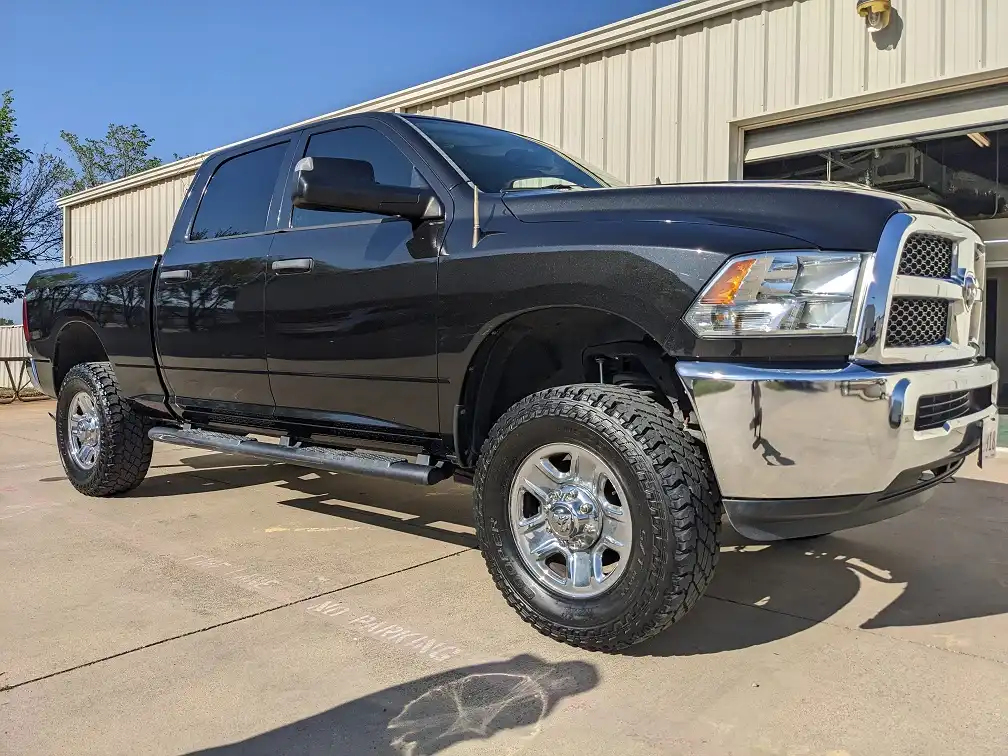 Ceramic Coat FAQ
Here are the most common questions we get asked about ceramic coatings in Mansfield.
Expert Installation for Lasting Protection: Our Ceramic Coating Services
When it comes to ceramic coating, professional installation is crucial to ensure that the coating is applied properly and provides the expected benefits. At Nitro Mobile Detailing, our team of professional detailers is trained and experienced in the proper application of ceramic coatings. We use high-quality products and equipment to ensure that the coating is evenly applied and provides long-lasting protection for your vehicle.
Our professional installation process begins with a thorough cleaning and preparation of the vehicle's surface. This includes washing, decontaminating, and polishing to remove any dirt, grime, or scratches that could interfere with the adhesion of the coating. Once the surface is prepared, we carefully apply the ceramic coating using specialized tools and techniques. The coating is then cured, and a final inspection is conducted to ensure that the application is flawless. With our professional installation, you can trust that your vehicle will receive the best possible protection and long-lasting benefits of ceramic coating.
Check out our previous Work
Nitro is Mansfield's most trusted installer of ceramic car coatings. We have years of experience and have completed rigorous training at the Rupes Bigfoot Detailing Academy.
Get a Quote For Your Vehicle
We do not share your personal info or spam your inbox. Typical response time is 1 business day.
We install car ceramic coatings in Mansfield, TX
Coatings are only available at our shop location just south of Downtown Mansfield.
nitromobiledetailing@gmail.com
(682) 225-5299
400 Industrial Blvd Suite 106, Mansfield, TX 76063
Operating Hours
Monday
Tuesday
Wednesday
Thursday
Friday
Saturday
Sunday
Closed
9 am – 5 pm
9 am – 5 pm
9 am – 5 pm
9 am – 5 pm
9 am – 5 pm
Closed
Ceramic Coatings in Mansfield, TX
Looking to protect your vehicle with a ceramic coating in Mansfield? Let Nitro Mobile Detailing's expert ceramic coating technicians handle it! Ceramic coatings provide a protective barrier that can repel water, resist UV damage, and prevent dirt and grime from adhering to your car's surface. This means less time spent cleaning and maintaining your car's appearance, and more time enjoying the road ahead. Plus, ceramic coatings can add a glossy, high-end finish to your car's paint job, making it stand out from the crowd. So why settle for a dull, lackluster car when you can have a stunning, protected ride with a ceramic coating?

If you'd like to get your car ceramic coated, give us a call at 682-225-5299. We'd be happy to help!
What is a ceramic coating?
A ceramic coating, also known as a nano-ceramic coating or a ceramic paint coating, is a liquid polymer that chemically bonds to the surface of a vehicle, creating a protective layer. The coating contains tiny particles of ceramic or silica, and when it is applied to a surface, it creates a hard, durable layer of protection. Once it is fully cured, the coating will prevent light scratches, oxidation, UV damage, and other environmental contaminants.
They make your car stay cleaner, longer
One of the biggest benefits of ceramic coatings is that they keep your car clean longer. The coating is so slick that dirt, road grime, bug guts, etc. have a much harder time sticking to your paint. That means your car will stay cleaner, longer because all the stuff that normally latches onto your paint will slide off.
a Ceramic coating makes washing your car easier
Another huge benefit of ceramic coatings is ease of maintenance. They will make washing your car much easier. Things that used to require scrubbing to remove (bug guts for example) will simply wash off with water. When you wash your car, your wash media will glide along the surface much easier, creating less friction and therefore preventing light scratching.
A barrier against Mansfield Summer Sun
The sun is your car's worst enemy. After years of being in the sun, your car will gradually become damaged by the UV rays. This will manifest in fading paint, clear coat drying out and flaking off, etc. See picture below.
Ceramic Coating Prevents Sun damage
A ceramic coating will go a long way in preventing this type of clear coat sun damage. The silica solution in the ceramic does a great job at repelling those UV rays that cause so much damage (hence the level of shine provided by a coating). Another great benefit of ceramic coatings is they form a barrier against oxidation!
Oxidation and how ceramic coatings prevent it
To understand what oxidation is, read this quote from jdpower.com:
"Oxidation is a chemical process that causes vehicle paint to break down over time from exposure to heat and oxygen. It is essentially a form of corrosion in which paint loses its oil content, and as a result, dries out. This process is gradual, but the effects can be severe."

Source
A ceramic coating will prevent oxidation by locking in your clear coat underneath a protective shield. This will prevent the drying out process and loss of oil content in your paint, ensuring a clear and unoxidized surface for years!
Further reading for ceramic coatings
Still on the fence about whether a ceramic coating is right for you? Don't take our word for it, check out these videos to see what others have to say about ceramic coatings!
How Does It Work?
The ceramic coating creates an extremely smooth surface (even smoother than fresh clear coat). In fact it is so smooth, that your whole car will become hydrophobic, meaning it repels water and other liquids. This makes it easier to clean and also adds a layer of shine to the surface and can enhance the color of the paint or other materials it is applied to.

Not only will water slide off of your car paint, but other materials like dirt, bug guts, road tar, etc. will have a harder time sticking to your car due to the slickness of the coating. This means the coating will actually keep your car clean for a longer period of time in between washes. Yes, this actually works. We have a ceramic coating on our company vehicle and I've seen first hand how it will keep your car clean for weeks at a time. It's seriously amazing.
How long does a Ceramic Coating last?
Our professional-grade ceramic coating option lasts for 3-5 years. 3 years is our minimum guarantee, however with proper care, you could see the coating last up to 5 years.

Our consumer-grade ceramic sealant will last you about 6 months.

We guarantee your coating to last up to the quoted amount of time; if you notice your coating start to fade or underperform, you likely just need a decontamination and a good hand wash to unclog the pores of the ceramic. If that doesn't work, we will reapply your coating for you.

The biggest determining factor in how long your coating lasts is maintenance. Without a proper maintenance routine, you could see the coating start to fade sooner than expected. Don't worry, we'll teach you exactly how to take care of it.
Where Does Nitro Mobile Detailing Operate?
Who benefits from a ceramic coating mansfield?
With a ceramic coating, you can enjoy a low-maintenance solution that keeps your car looking like new for years to come. Whether you're a car enthusiast who wants to protect your investment, or just someone who wants to keep your car looking great without all the hassle, a ceramic coating is the perfect solution. Don't wait – invest in a ceramic coating today and see the difference for yourself!