Car Interior Cleaning
A thorough deep cleaning of your car/truck interior.
Step into a clean car
Let's face it, driving a dirty car just isn't enjoyable. Fogged up windows, gunk on the steering wheel, coffee smell in the cupholders – we've all been there. After an interior detail from Nitro Mobile Detailing, you'll look forward to driving your car again.
What comes with our interior car detail?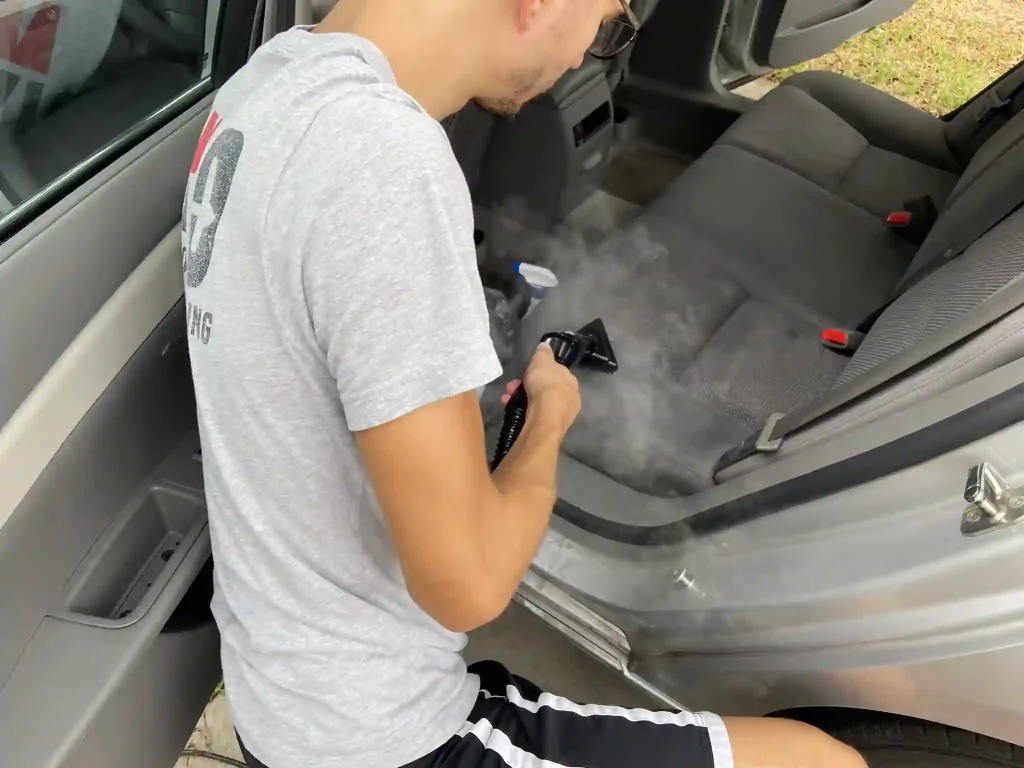 We've cleaned dozens of car interiors in mansfield
The Car Interior Cleaning service is meant to get your interior back to the best condition possible. Your seats, floor mats, dashboard, door panels, glass, carpet, etc.. will all be thoroughly cleaned and detailed.
If it can be cleaned, we'll clean it.
Does that mean every last stain and blemish will be removed? Unfortunately, no. Based on the type of stain, how long it's been there, and the material that it's on, many stains won't come out 100%.
Interior Cleaning FAQ
Here are commonly asked questions about our car interior cleaning service. If your questions are not answered here, feel free to contact us.
Get a Quote
Ready to get your car interior cleaned? Fill out this form for pricing and booking information. We typically respond within 1 business day.
A full interior cleaning will make your car feel like new
Our interior detail service is a complete cleaning of your vehicles interior. Everything from the dash to the trunk will be thoroughly cleaned and detailed. This service will transform your vehicle back to how it looked the day you bought it (or maybe even better).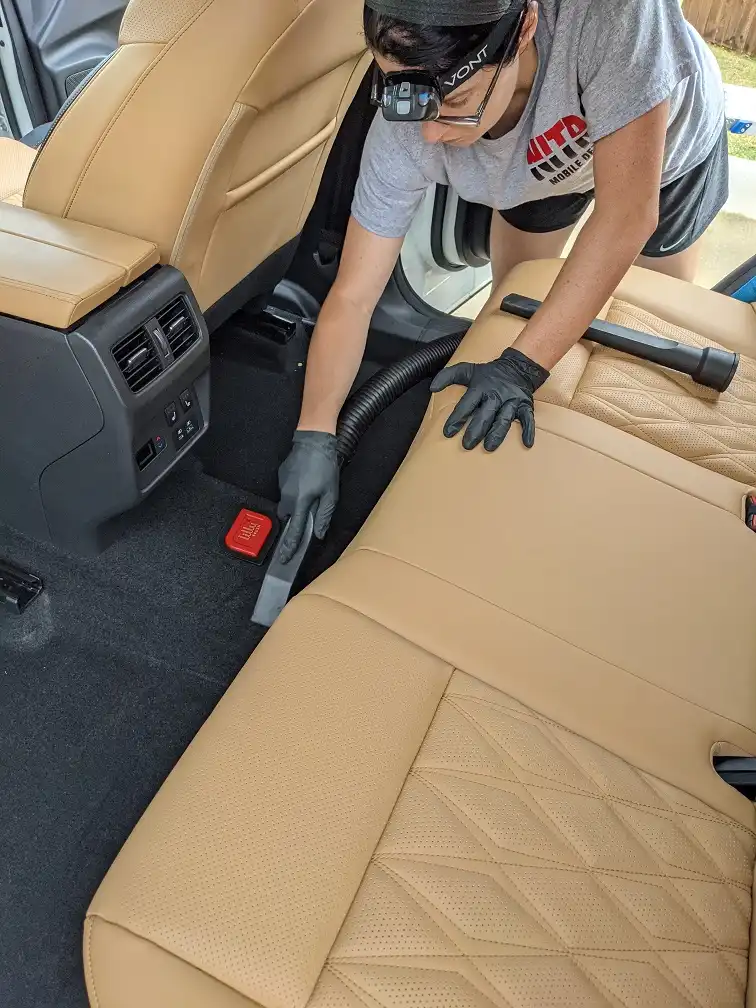 Pricing
Regular Size
Sedan, Crossover, Compact
Note: the prices listed above are estimates only. Extremely dirty vehicles may not qualify for above pricing.

Pet hair removal costs an additional $25-$50.
We're car interior cleaning specialists in mansfield
Nitro Mobile Detailing has been cleaning car interiors in Mansfield since 2021. We have learned a lot about cars and cleaning them inside and out over the years. Luckily for you, that means we've seen just about everything in the interior car detailing world. Chances are, even if your interior is quite dirty, we've probably seen worse. The good thing about that is, no job is too extreme for us to handle. The only restrictions we now work within is no body fluids and no smoke damage. These are very specific interior car cleaning services that should be handled by someone who specializes in them.
Mansfield Residents love our interior detailing
Mansfield is our primary service area, and we've gained many 5 star reviews for our interior car cleaning services.
"It's beyond clean; all but the driver's seat look like brand new seats."
Spenser Brown
"Best car detailing in Mansfield! Seats look fantastic and smell great."
Brad Martin
Our Approach to Detailing Your Car's Interior
We understand that every car is unique and may have different levels of wear and tear. While we strive to bring every car as close to its original, factory-new condition as possible, there may be limitations. For instance, if there are areas that have been damaged, it may not be possible to restore them to their original condition. However, we still make an effort to minimize the appearance of these spots to make them less noticeable.
What's Included in the Interior Detail Service?
Our Interior Detail service covers various aspects of the car's interior, including cleaning of the seats, carpets, mats, and door jambs. We also take care of the dashboard, center console, door panels, and all the smaller compartments in your car. Our experienced professionals use specialized tools and cleaning products to remove dirt, stains, and odors from your car.
Our detailing process is meticulous, and we don't leave any area untouched. We pay attention to even the smallest details, such as cleaning the crevices and tight spots, and making sure that all the buttons and knobs are cleaned and protected. We guarantee that our Interior Detail service will leave your car looking and feeling fresh, clean, and comfortable.
Car Seat Shampooing in Mansfield, Texas
For heavily soiled seats, we offer an optional upgrade to car seat shampooing. Our interior detail includes steam cleaning of these areas, but sometimes a deeper clean is required. If your seats/carpets have stains, deeply embedded dirt or smells, consider purchasing a carpet shampooing upgrade.

This process involves the use of a commercial grade water extractor machine. This is essentially a carpet cleaning machine similar to those used by home carpet cleaning services. It injects water and cleaning chemicals into your car fabrics at high pressure and then immediately sucks the liquid out with a powerful vacuum nozzle. This method is great for removing deeply embedded dirt or stains.
Will car seat shampooing soak my seats?
No, our process of car seat shampooing does not soak your seats. They will be left slightly damp for 30-45 minutes after the service. At Nitro Mobile Detailing, we realize that car seats are more than just simple chairs. They include many electronic components such as heaters, electric motors, ventilation, etc. Therefore, we try to introduce as little water as possible into your seats to protect the electronic components.
Car Carpet shampooing in Mansfield
If your carpets are really dirty or really smelly, you may want to purchase car carpet shampoo upgrade along with your interior detail. We normally use a steam cleaner on all carpeting, but sometimes a deeper clean is required. The carpet shampoo upgrade utilizes our commercial carpet cleaning machine to inject water and cleaning chemicals into your carpets. The solution emulsifies dirt and stains, then is sucked out by the machine's vacuum nozzle.