Full Car Detailing
A complete cleaning of your car or truck, inside and out.
What is full car detailing?
The "Full Detail" is our comprehensive auto detailing package. It covers both the inside and outside of your car or truck. We thoroughly clean and detail every inch of your vehicle, leaving behind durable protective products like our 6 month ceramic sealant and interior UV protectant. Our technicians provide an unmatched level of attention to detail – we get into all the areas that are usually missed. In between the seat and console, under the seats, cracks in body lines on the exterior, you name it. We clean all of the parts of your car that matter the most.
Where do you offer the full detail?
Nitro Mobile Detailing can bring the full detail to your doorstep via our mobile car detailing unit. We operate pretty much anywhere in the Dallas Fort Worth Metroplex. Our detail shop is located just south of Downtown Mansfield if you'd like to drop your vehicle off with us.
What makes a full detail different from the car wash?
We provide an unmatched level of delicate care to your vehicle. We use only the safest cleaning methods and chemicals to ensure we leave no scratching or swirl marks behind after we're done. We also take the time to get into all the little areas that an automated wash will never be able to clean properly. Beyond that, we use top-shelf detailing products to ensure your vehicle gets the protection it needs to stay looking great for years down the road. We spare no expense in purchasing the highest quality tools and chemicals.
What's Included in the Full Detail?
Exterior hand wash using efficient and eco-friendly Rinseless Wash technology
Clay bar decontamination treatment
Apply 1 coat of 6 month ceramic sealant for shine, protection and water beading
Wheel and tire cleaning
Long-lasting UV protectant tire shine applied to tires
Interior vacuuming service
Interior glass cleaning
Detailed cleaning of all hard surfaces and plastics on the interior
Detailed cleaning of entertainment system, driver controls, air vents, etc.
Clean and apply UV protection to any leather surfaces or seats
Degrease and deep clean all cupholders, pockets, etc.
Apply UV protection to hard surfaces exposed to sunlight
Clean all floormats, carpets, fabrics and felt (headliner excluded)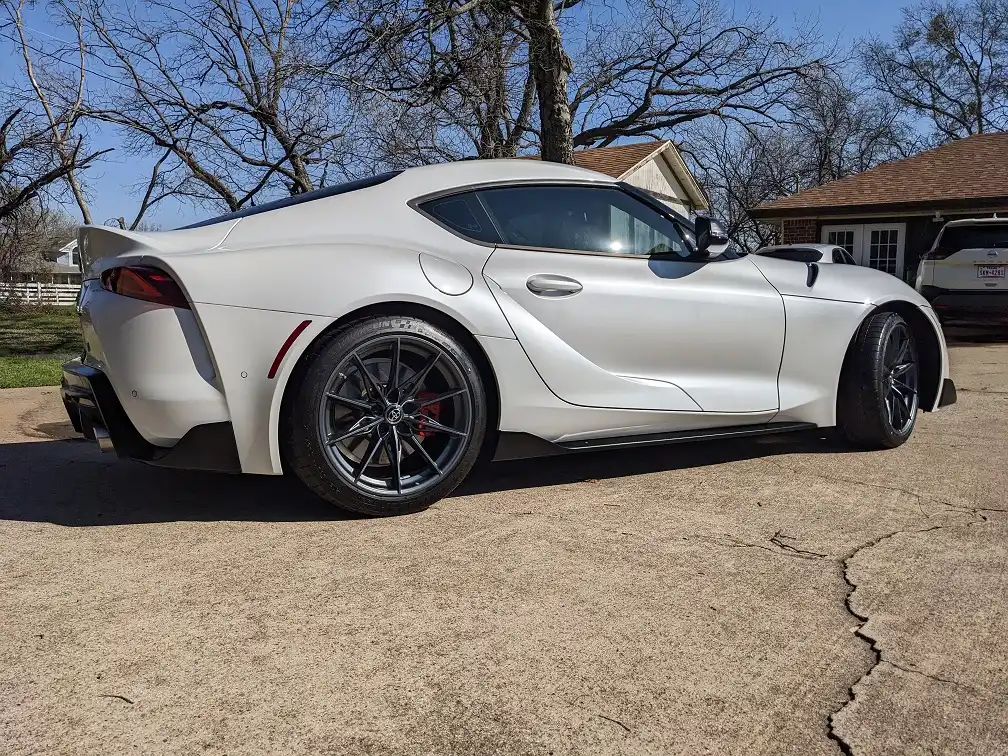 Processes and Techniques – Exterior
Learn how we clean your vehicle and what products we use in the Full Detail service. This section covers the exterior services that come with the Full Detail.

For a full list of products, check out our products we use page.
Delicate hand Car wash
We wash the vehicle by hand with our industry-leading products and tools such as our Rinseless Car Wash and the Rinseless Wash Sponge. These products were designed to give your vehicle and delicate and thorough cleaning with minimal risk of scratching, marring or damage. The exterior wash takes us about 1 hour to complete as we get into often overlooked nooks and crannies on your vehicle.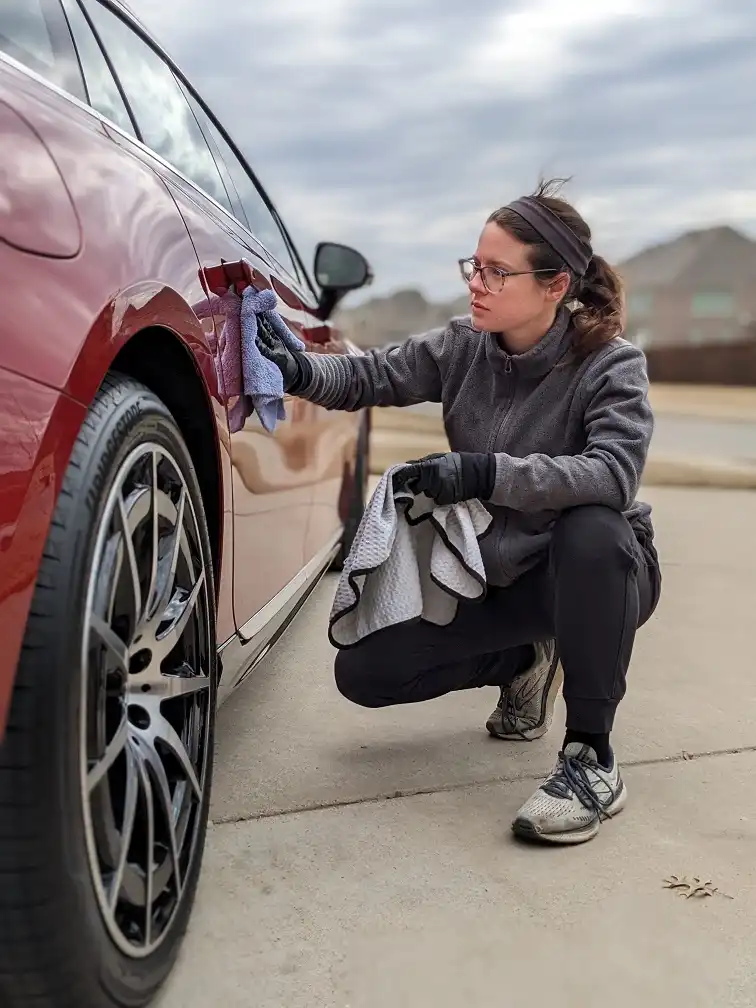 Decontaminate with Clay Bar
After your car is washed, we take the time to treat the vehicle with a clay bar (or in this case, a synthetic clay towel). What this does is remove any stuck on bits of tar, bugs, etc. that was not removed during the normal wash process. Doing so will not only deep clean your paint and glass, but it will smooth those surfaces out significantly, making your car feel more slick to the touch.
Apply ceramic protection to the exterior
The most important and most valuable part of the exterior cleaning is the ceramic sealant. This product goes on as a final step in the process and bonds to your vehicle's paint, forming a durable layer of ceramic protection. The benefits of the ceramic sealant are increased shine, protection from harmful UV rays, protection from clear coat damage, and it will make your car easier to wash next time!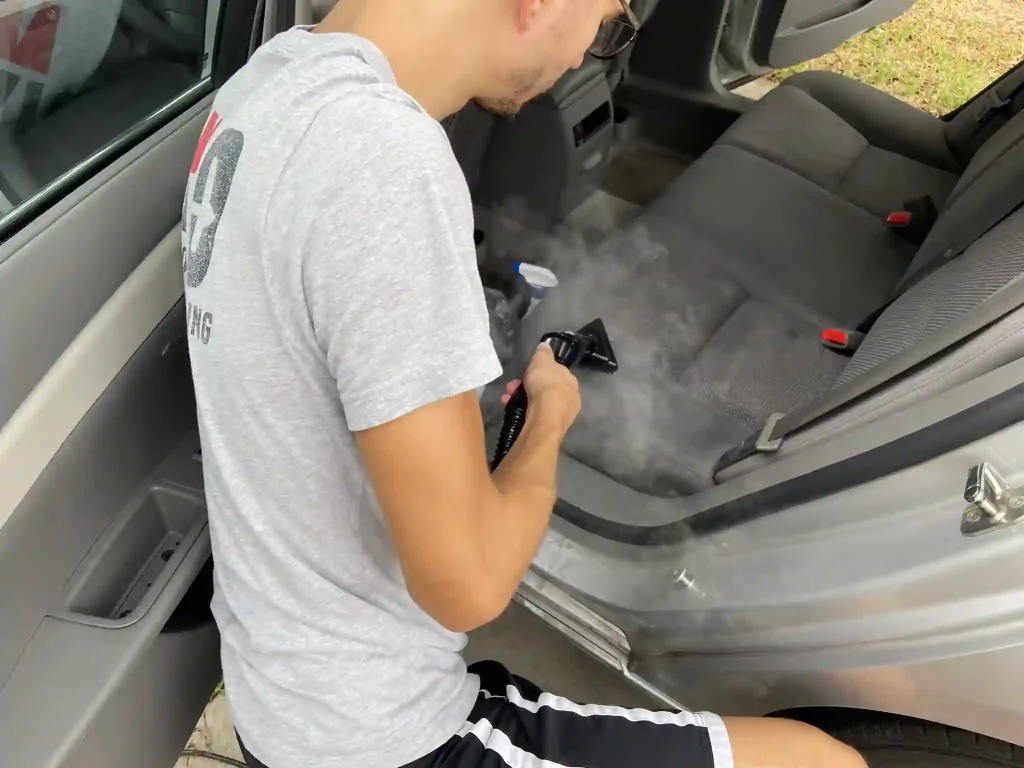 Processes and Techniques – Interior
Learn how we clean your vehicle and what products we use in the Full Detail service. This section covers the interior services that come with the Full Detail.

The interior portion of the Full Detail service is identical to the Full Interior Detail.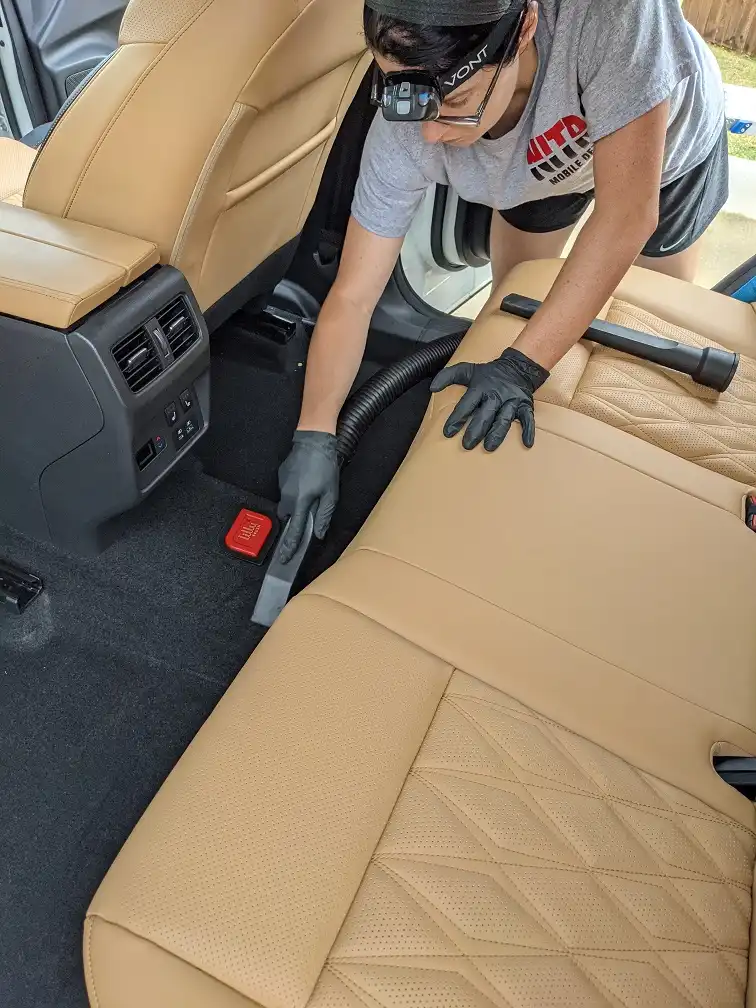 Thorough vacuuming
We start the interior by vacuuming out every inch of the interior. This includes under the seats, under the floormats, in between the seats and center console, etc.
Detailed cleaning of all hard surfaces
It would take forever to list every single surface that we clean in the interior. Just know that if it's a hard surface that needs to be cleaned, we'll use a delicate interior cleaner to remove dirt and grime from it. We also apply UV protection to these areas after they're clean.
Clean and protect leather surfaces
Keeping your leather in good condition is important to maintaining the appearance and comfort of your vehicle. We clean and apply protection to leather surfaces.
Clean carpet, cloth and fabric
We clean carpet and fabric with an upholstery cleaner and microfiber towels. If your carpet or cloth seats need a deeper cleaning, purchase our carpet/seat deep cleaning upgrade. This upgrade includes water extraction and stain removal of these areas.
Full Car Detail Pricing
Our pricing is based on the size and condition of your vehicle. Prices listed below are base prices and may be increased in the case of extremely dirty interiors. Questions? Contact us here.
FULL DEtail – Starting at
$349
For exact pricing on your vehicle, get a quote!
What Our Customers Say about the full car detail in mansfield
other services
Check out our other car detailing services
Maybe the full car detail isn't what you're looking for? Don't worry, we have bunch of other services that might interest you!
Interior Only Detail
A deep cleaning of your vehicle's interior.
Maintenance Program
Monthly cleanings to keep your car looking great all year!
Ceramic Coating
Semi-permanent ceramic protection lasting 3-5 years.